When my husband passed away I felt myself withdrawn from normal everyday conversations. My life felt like anything but normal. His last year on this earth had been filled with doctors and hospitals. Our world had been switched to living on hospital time. Time stood still. My entire focus had been taking care of my husband, anticipating his every need. It was like living in a bubble with one topic of conversation; mortality.
Accepting that no matter how much you try to live a healthy lifestyle, it may not be enough. Accepting that some chapters in our life end no matter how much we fight to keep them open. Paralyzing fear challenges our faith. Confidence can get replaced by insecurity.
To search for meaning while fighting the emotions that you don't fit in anymore are mentally and physically exhausting. Continually faced with new situations, where and how do we find the courage to stand strong? It seems that one minute we are full of confidence. Then in the blink of an eye, insecurity overcomes your person. Thoughts go flat line. Words escape you. Why?
As an educator and mentor I advocate being kind to yourself. To self reflect asking "Did you do the best you could?" when goals fall short. That's truly all we can ask of ourselves. A basic principle. Why am I having such difficulty in applying that to me?
Can you make it through a day without expectations of the day, of people, of yourself, of life? twitter @ zen_habits (Leo Babauta)
Here's another devastating side-effect of the ego; I know everything and therefore I don't need to listen to anyone and so I stop learning.
When I was in my early twenties I spent some time with a man who was incredibly smart and well read.  But he had a problem; he thought he was leaps and bounds smarter than anybody else so he never dialogued with anyone.  He only "monologued".  A couple of years later this man and I went our separate ways and I didn't see him for four years.
In the four years I didn't see him, I continued to ask questions and to listen to what others thought and had to say.  So when I saw my old boyfriend to catch up, I found myself sitting in front of the same man I had separated from four years earlier.  He said the same things and thought the same way.  He then didn't seem so smart and well read anymore.  He seemed like a man who had become stuck because he thought he knew it all.
A certain dose of ego is healthy in the sense of allowing us to assert ourselves without fear.  But ego that wraps pride around itself  is terminal as it kills the self.
I like to keep my ego in check and so I often ask myself when my feathers get ruffled if I'm justified or if it is my ego feeling frail.  If it is the latter, I tell myself: "pipe down, it's for your own good."
In my never ending web searches for topics to read I came across the article by Deborah Leigh Ketner (http://www.americanchronicle.com/articles/view/42453) about a subject I know a lot about: the difference between love and obsession.
I have truly loved two men in my life.  One when I was fourteen years old (innocent love) and the other my husband, who passed away in 2008 (mature and supportive love).  In between those two relationships, I dated many men but I either was not really interested in them or they were relationships of obsession.
Let me write first about my two genuine loves.  I met Tau (remember I'm from Brazil) when I was thirteen.  We stayed together until I was eighteen.  In those years we traveled and learned about relationship through loving each other.  It was an absolutely trusting, and innocent relationship, neither one of us had much history and we were discovering life together.  Everything was new, exciting and we were there for each other.
When I met my husband, I had plenty of history.  I had also accumulated a lot of heavy baggage but there was also plenty of wisdom which I had picked up along the way.  It was this wisdom that allowed me to really love and be loved.
I had learned that when we NEED someone in order to exist and our body aches when that person is not around, it is not love, it is obsession.  It is about us thinking a particular person has the power to rescue us.  And we want to be rescued because we don't trust our own ability to take care of and provide ourselves with a rich life.
Loving someone means we don't NEED them but instead we want to share our lives with them and most importantly we want to support them on their life journey.  That means giving them the foundation to let them go and be whatever is going to allow our loved ones to grow as people and experience life.  There is a huge difference from "you have to stay with me no matter what" or "you can't do this to me" to "I'm here loving you; go try out life".
In obsessive relationships it is all about us not the other person.   In a strange way, even though these relationships are all about us, we have no power.  By NEEDING someone we give our power away and sometimes the recipients can be quite cruel.  It is a game that gets set up; I give you my life and you abuse it because the truth is I'm needy and you resent me.
Love happens easily and naturally.  No games. Two people meet and they are ready to journey together.  No imprisonments or psychologically empty deals.  It is simply: I love you and I want the best for you.  You love me and you want the best for me. That's real love.
So if you truly want to experience a deep and loving relationship start by loving yourself.  That is the only way you'll be able to meet someone and share love and life without being needy or always being scared if that person leaves your world will crumble.  Because that is not love that is obsession.
"Time is part of the measuring system used to sequence events, to compare the durations of events and the intervals between them, and to quantify the motions of objects. Time has been a major subject of religion, philosophy, and science, but defining it in a non-controversial manner applicable to all fields of study has consistently eluded the greatest scholars." – Wikipedia
Time is a very peculiar measuring system. While we live by the twenty four hour clock, our emotional time works in peculiar ways.
How many of us have experienced life where no matter how long ago certain things have happened they still feel like they happened yesterday?And how many of us, even with the decades adding up, still feel like youngsters inside?
Time has its own beat and trying to understand its "psychological mind" is a losing if not detrimental proposition. Why? For example; how often do we do things and wait for an immediate result and when it doesn't happen feel angry and frustrate?   Our human mind wants results to follow right after an effort is performed. But time's mind doesn't function like that. To time a result happening now or in four decades, its the same because time is not linear.  So what can we do?
We should live life for today and act in the ways we believe to be right for us. We shouldn't wait to be compensated for our deeds when we do them.  Actually we should do things just for the sake of doing them.  No waiting for any kind of thank you.
Removing the anxiety of time from our lives allows us to be more ourselves and to live more freely. And as we shape the present we also shape the future.
Time, the cradle of hope…. Wisdom walks before it, opportunity with it, and repentance behind it: he that has made it his friend will have little to fear from his enemies, but he that has made it his enemy will have little to hope from his friends. ~Charles Caleb Colton
Time is but the stream I go a-fishing in. ~Henry David Thoreau
Death is part of life either we want it or not, so we might as well become friendly.  One of the good things that have come out of the age of social networking is the sharing of subjects societies have kept to themselves for a very long time.  Thanks to some brave and honest souls we have the opportunity to come close to situations and feelings that in their rawness and devastation will remind us to cherish our lives and love.
Much love to Eva Markvoort who is no longer with us and whose courage has inspired many.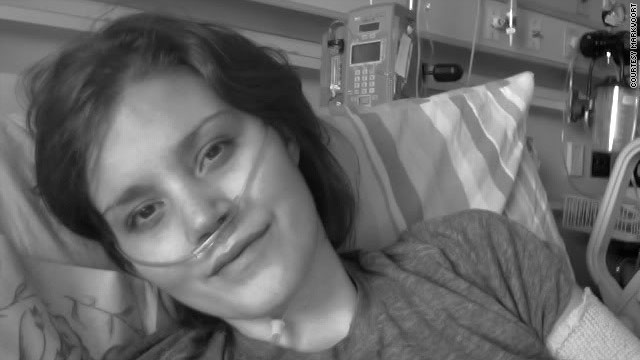 "Hello to the world at large," she said in the video. "To my blog, to my friends, to everyone. I have some news today. It's kinda tough to hear, but I can say it with a smile." Propped in a hospital bed, Markvoort sat surrounded by her family. "My life is ending."
Markvoort had cystic fibrosis, an incurable disease that causes mucus to accumulate in the lungs. For nearly four years, she narrated an unvarnished blog about life with a terminal disease. Even when it appeared unlikely that she would receive a second double lung transplant, the 25-year-old continued to chronicle life on her blog.
The public sharing of one's last thoughts is a way to acknowledge that the end is near, but it also destigmatizes death for others, said medical experts who work with terminally ill patients.
In the Internet age, many people reflect on their lives through video, personal blogs and larger websites such as CaringBridge.org, where people who have major health events connect and share online.
"What we're seeing over the last decade, we are gradually moving from a culture that had become during the 20th century, very closed about death," said Dr. Chris Feudtner, research director of Palliative Care Services at the Children's Hospital of Philadelphia in Pennsylvania.
A cultural shift has occurred, he said, referring to columnists and Randy Pausch, a computer science professor at Carnegie Mellon University, who discussed their impending deaths with frankness. Pausch's last lecture, urging students to fearlessly pursue their dreams, went viral on YouTube in 2007, getting more than 11 million views.
Their line of thinking may be, "I'm still alive. I don't want to be closed. I want connection. I want to be able to share what I'm learning on this journey," Feudtner said.
Bloggers like Miles Levin, an 18-year-old who had a rare soft-tissue cancer and died in 2007, and Michelle Lynn Mayer, a 39-year-old mother who had scleroderma and died in 2008, shared their thoughts on living and dying, too.
"We all tend to be open via video, blog or Facebook about what we do every day. It's hardly surprising that openness extends to people's last days or weeks," said Dr. David Cassarett, author of the book "Last Acts," about end-of-life decisions…Continued
Sometimes we are afraid of taking certain actions.  The reasons can be: 1 – We think we couldn't possible to X, or  2 – We are afraid if we fail what others will think of us or 3 – What do others think of us in general?  Are we good enough?
Let's think for a moment about "we think we couldn't possibly do X".  The truth is we don't know. And if we never try we will always be stuck exactly where we are.  Why not shift the focus of our thinking from fear of failure to exhilaration?  Instead of being afraid let's be curious about what will happen if we do succeed.  By turning a negative into a positive we can overcome our fears and move on. And once we do, let's make sure not to forget to look back and rejoice in what we have just achieved.
How about fear of what others will think of us if we fail?  That questions points to a different issue.  It points to a fragile ego.  If we realize that life is a journey, full of excitements, wins and losses, we know that the only way to move forward is by having self-confidence and taking risks.  Loss is part of life and so is winning. So let's not care about what others think of us.
And lastly "are we good enough?"  If we think we are; then we are.  It is truly up to us because 1 – there is no such a thing as good enough  2 – If we are on a journey to live a happy and rich life, we know where we are headed and we don't need anybody's approval to keep moving forward.
Being self-confident makes life feel more free and easy.  All the worrying feels like a ton of bricks on our backs, and who needs that?  The time of slavery is over.
How often do we look at life from other people's point of view?
I remember many years ago watching a film, The Joy Luck Club, which was mostly about relationships between mothers and daughters.  I watched the film alone and when it was over, I sobbed.  The film had allowed me for the first time to see my relationship with my mother through her eyes.  I understood emotionally that I was part of her.
I had been created with love and then carried inside of her.  She had fed and taken care of me until I was eighteen and got on a plane to New York. To my mom I was and would always be her baby and that informed how she thought and related to me.
I, as a young adult, wanted to experience the world and couldn't understand her worries and fears.  I also couldn't understand why she needed me so much and that too informed how I thought and related to her.
My mother and I have had our differences and they mostly came from not understanding each other's point of view.
If we care about a relationship, when there is a disagreement, it is important to try to see the issue from the other person's view.  And even if we can't agree coming to the table with compassion will keep the relationship healthy.
What a brilliant saying that is!  The point is: it has already happened, there is no going back.  Sometimes it is devastating but there is no fixing.  The situation has changed and life has changed.
We morn the loss but eventually have to accept the change.  If we don't; life stops on its tracks.
So whatever has happened in your life, recognize it, embrace it, make it a part of history and then take a step forward.  Accept the possibility of different life and the possibility of surprises.
Life is a journey.  While we can map up the route, we never know what accidents and road constructions, will veer us in different directions.
Accepting and surrendering is mature and powerful.  Giving up isn't.  And there is a huge difference between the two.
We are always trying to look for quick solutions and when they don't happen we feel sad and frustrated.
Let me give you a few examples:  If we want to be in a relationship we take the first guy/girl we find and say to ourselves: He/she is it.   It doesn't matter he/she may not be the best choice for us. What matters is that we are done casting the part of a partner/lover.  Of course when the relationship doesn't work we blame ourselves, we blame them and we blame the world.  And we fail to realize that in our hurry to put one need/problem/issue aside we rushed to the first possibility and thought: "issue solved" and moved on.
What about when we are feeling blue and we reach for the first soothing anything only to feel worse after the fact?
I'm not suggesting we think a million times before we do anything.  But I am suggesting being in tune with ourselves so we can hear our inner voices screaming at us: "Stop type casting and look for the real deal".  Our inner-selves always knows the truth, stop and listen to yourself.
You have to leave the city of your comfort and go into the wilderness of your intuition.  What you'll discover will be wonderful.  What you'll discover is yourself.  ~Alan Alda