I have never been too keen on dates but August is a difficult month for me.  August 15th marks two years of my husband' passing.  August 26th is my forth wedding anniversary but the groom won't be present.
Without me realizing the weight of these two dates have sneaked up on me and I grief for the man who used to walk around the Silver Lake reservoir singing with me theme songs I had authored for our dog.
Late last night after a long day that involved welcoming my sister and nieces arriving from Brazil, I watched Tony Robbins's show "Breakthrough" which I had previously recorded.   I was interested in seeing what the promos of the show had been advertising for weeks; people with great obstacles being taught and/or shown how to overcome them.
I don't know much about Tony Robbins.  The extend of my knowledge amounts to talking to a few people that have taken his courses, skimming through his books, and catching minutes of commercials or infomercials on TV.  The reason I never gave him and his teaching more time than that is because I've never been too interested in mathematics when it comes to emotions.  Smile and say life is great three times and you will be happy.
Please indulge me while I tell you a coffee story.
My late husband was really into coffee.  As a journalist, one of his favorite topics was coffee; the different beans and the ways they are ground.
When Chris first got sick with cancer – before his liver transplant – and the ammonia started to build in his system (liver processes ammonia) his mind started to get foggy.
On a trip to the West coast four months ago, the stars lined up for me to meet an amazing woman. We went from the casual "Are you on a vacation?" to sharing our deepest feelings regarding what was really happening in our lives. Her journey the past few years with breast cancer… the loss of her breasts, five surgeries. My life with my late husband… his need for a heart transplant, the limited time we had before that window softly closed. Complete strangers sharing the darkest time of life; a conversation about our reality, life journeys full of heartbreak and tears.
For months we have continued that conversation through emails and happy hours via phone. We were well aware of how tough it is to be in our 50s and feeling like a fish out of water.
She often holds back tears when lifelong girlfriends spend the majority of their time with her talking about kids and grandkids, something she had always wanted, yet a club she would never get to join. Read more
Los Angeles, California (CNN) — Anna Rahm spent her senior year of high school enduring chemotherapy sessions, blood and platelet transfusions and multiple surgeries, including the amputation of her right leg in October.
"Living with a life-threatening illness every single day, you just wonder if this could be your last day," said Rahm, who was diagnosed last summer with a rare bone cancer called osteosarcoma.
But last week, the 18-year-old from Chatsworth, California, was able to receive her diploma and attend a one-of-a-kind prom with nearly 200 other teenagers also living with a life-threatening illness.
The annual No Worries Now prom is the brainchild of 20-year-old Fred Scarf. The event is intended to give the teens an opportunity to celebrate their life and their youth in an environment of acceptance and camaraderie…Continued
Last night I spent a couple of hours on the phone with a friend of mine who has lost a leg to cancer.  Now most of us would crawl into a ball and feel sorry for ourselves.  But not her.  My friend surfs, skies, and travels all over the country counseling other people that are about to go through what she has gone and it is going through. To all of us that get to watch her live her life we think she's a warrior.  But not her.  She apologizes for when from time to time she needs a good cry. And she apologizes when she thinks she doesn't do as much or she's not as good as others.
I don't know where those feelings come from.  I imagine for each person there is a different origin.  But I understand the feeling as I have also dealt and deal with it in my own life.
So I'm not going to address the reasons but want to talk about, once this type of feeling and behavior is identified, what to do about it.  Or better what I have done and do that has worked for me.
1                    -  Sometimes when we look at ourselves and judge us harshly the sentiments come from feeling less than or inadequate. Those thoughts might be coming from looking at others and their lives and making comparisons based on what we see.  When that happens I remind myself:  A  -  I don't really know the truth about that person's life and   B  -  Everyone is unique and has a different story.  We can't compare an orange to a car.  "Is the car delicious?"   "How fast does the orange go?
2                    – I go within and I ask what's really going on.  What's triggering the feeling?  My mature side steps outside and talks to my emotional side to find out what is really bothering me.
3                    -  Who is the person who is actually standing over me and judging?  Whose sets of rules am I using for the judgment?  I'm sure the answers to these questions will involve many people but not necessarily us.
4                    -  I remind myself of all the things I have done that others have thanked me for.  And I remind myself of the love I have in my life from friends and family and then I know I must be doing something right.
If this sounds like too much trouble or like a therapy session, let me boil it all down.  Be your own best friend.  You would not let a best friend walk around having an erroneous image of themselves or feeling less then.  So do unto you what you would do unto others and tell yourself the truth.
Death is part of life either we want it or not, so we might as well become friendly.  One of the good things that have come out of the age of social networking is the sharing of subjects societies have kept to themselves for a very long time.  Thanks to some brave and honest souls we have the opportunity to come close to situations and feelings that in their rawness and devastation will remind us to cherish our lives and love.
Much love to Eva Markvoort who is no longer with us and whose courage has inspired many.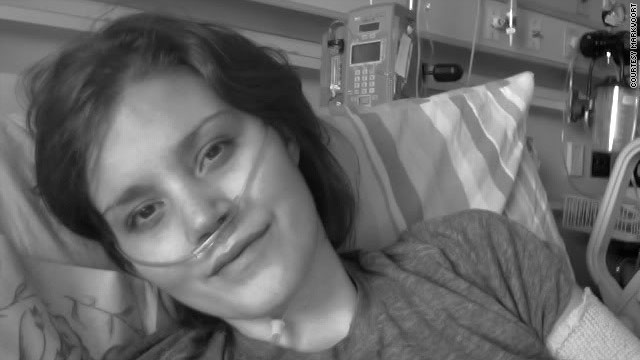 "Hello to the world at large," she said in the video. "To my blog, to my friends, to everyone. I have some news today. It's kinda tough to hear, but I can say it with a smile." Propped in a hospital bed, Markvoort sat surrounded by her family. "My life is ending."
Markvoort had cystic fibrosis, an incurable disease that causes mucus to accumulate in the lungs. For nearly four years, she narrated an unvarnished blog about life with a terminal disease. Even when it appeared unlikely that she would receive a second double lung transplant, the 25-year-old continued to chronicle life on her blog.
The public sharing of one's last thoughts is a way to acknowledge that the end is near, but it also destigmatizes death for others, said medical experts who work with terminally ill patients.
In the Internet age, many people reflect on their lives through video, personal blogs and larger websites such as CaringBridge.org, where people who have major health events connect and share online.
"What we're seeing over the last decade, we are gradually moving from a culture that had become during the 20th century, very closed about death," said Dr. Chris Feudtner, research director of Palliative Care Services at the Children's Hospital of Philadelphia in Pennsylvania.
A cultural shift has occurred, he said, referring to columnists and Randy Pausch, a computer science professor at Carnegie Mellon University, who discussed their impending deaths with frankness. Pausch's last lecture, urging students to fearlessly pursue their dreams, went viral on YouTube in 2007, getting more than 11 million views.
Their line of thinking may be, "I'm still alive. I don't want to be closed. I want connection. I want to be able to share what I'm learning on this journey," Feudtner said.
Bloggers like Miles Levin, an 18-year-old who had a rare soft-tissue cancer and died in 2007, and Michelle Lynn Mayer, a 39-year-old mother who had scleroderma and died in 2008, shared their thoughts on living and dying, too.
"We all tend to be open via video, blog or Facebook about what we do every day. It's hardly surprising that openness extends to people's last days or weeks," said Dr. David Cassarett, author of the book "Last Acts," about end-of-life decisions…Continued
Today I received an email from my sister in law with an attachment from a pen pal of hers in Australia whose brother had passed away a couple of days ago from brain cancer.
As I read the attachment – a letter written by the spouse left behind – my heart ached.  It could have been written by me.  In the letter the wife writes about her husband's indomitable spirit in the face of incredible pain and loss.  Even as he lay dying he wanted to try one more treatment.  That was my husband as well.  The day before he passed he dragged himself to a restaurant to have lunch with my nieces; just the three of them.
I've learned a lot of things from my husband: courage, strength, and love.  And I have also learned that life is really precious.  Even when he had lost his hair, his physical strength and in return was left with incredible pain, he wanted to live.  He wanted to live so much that he would take life even if he had to look gaunt and couldn't do most of things his 6', 200lbs frame once did.
I try to remember that when I want to complain or feel sorry for myself.  I have life and because of that I have the whole world.  Think about it.
Anytime I read about the loss of someone to cancer it brings me to a stop.  Last Saturday, April 10th, Dixie Carter died from complications arising from endometrial cancer.  She was married to actor Hal Holbrook since 1984.  A veteran of the stage and such TV shows as Designing Women, Dixie had a long successful career.
Anybody who has lost someone to cancer knows how devastating, painful and unrelenting this illness is. And all of us witnesses of the destruction remember how hard the people who lost the fight fought. In their memory we must embrace every moment of our lives with our love and attention.  It isn't fair to squander our lives away in silly and negative thoughts when others have tried to hard to keep on living.
When we are faced with devastating loss we come face to face with our humanity.  Religion, race, gender and age become non-existing differences.
When you are sorrowful look again in your heart, and you shall see that in truth you are weeping for that which has been your delight.  ~Kahlil Gibran
I'm a widow.  I never thought I would say these words.  I never thought I would say them in my 40s.  Widows are supposed to be old women contemplating the end of their lives.
I've recently watched a few films about soldiers returning home and it dawned on me that our lives are molded by that which happens to us.  Soldiers after seeing extreme violence, injustice, fear and deplorable conditions find solace in each other not because they speak the same language or come from the same town or even share the same believes.  They find solace because they went through the same psychological wounds. They all know what happened without any need for an explanation.  They understand each other in a visceral way.
I remember years ago when by a set of mismanagement of information and conduct by others, I ended up spending time with a woman, at the time in her 30s, who was dying because her organs and skin had lost the ability to stretch.  I used to tell her to look for others who were in the same situation as she was because they would understand her and she would find community with them.  I could talk to her and have compassion but I couldn't really understand in an emotional way what she was going through specially because then I hadn't gone through the depths of suffering and loss I would eventually go through.
I'm a widow.
I used to think widows and widowers were sad people who spend the rest of their lives pining for the person gone.
I am now a widow and sometimes I'm very sad; a special kind of sadness; profound, simple and quiet.  But I also have a great desire to live life and to make it meaningful.
I have a friend who has had a leg and a hip amputated because of cancer.  I truly don't know what it is to live the kind of life she does, but unlike how it was with my other friend, I now have an understanding of pain and hers doesn't scare me anymore.  I can offer her and receive from her more than I could many years ago.
I met someone on a hiking trail who had just faced death and will spend the rest of her life fighting it off.  I listened to her, she listened to me and neither of us were victims, we were just strong women sharing our lot with each other.
When my husband passed away I wanted so much to find something positive in all we had gone through and all that I had lost but I kept saying to friends and family that I was still the same person I had been before Chris had gotten sick.  But eventually I would realize that I was wrong.  It is impossible to go through something devastating and remain the same.  In my case I believe I have developed a new level of compassion and have in a way turned my loss into something of worth; I write about it and hope it resonates with others and inspires them to have the courage to be truthful, and to realize peace comes from knowing oneself.
So this Sunday when many lovers will send gifts and share kisses I will embrace the person that I am, the person life has shaped and I will promise her to be by her side and to love and understand her till the very end.
Happy Valentine's Day.