Death is part of life either we want it or not, so we might as well become friendly.  One of the good things that have come out of the age of social networking is the sharing of subjects societies have kept to themselves for a very long time.  Thanks to some brave and honest souls we have the opportunity to come close to situations and feelings that in their rawness and devastation will remind us to cherish our lives and love.
Much love to Eva Markvoort who is no longer with us and whose courage has inspired many.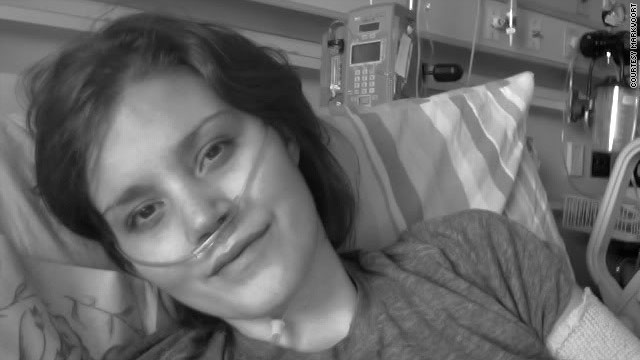 "Hello to the world at large," she said in the video. "To my blog, to my friends, to everyone. I have some news today. It's kinda tough to hear, but I can say it with a smile." Propped in a hospital bed, Markvoort sat surrounded by her family. "My life is ending."
Markvoort had cystic fibrosis, an incurable disease that causes mucus to accumulate in the lungs. For nearly four years, she narrated an unvarnished blog about life with a terminal disease. Even when it appeared unlikely that she would receive a second double lung transplant, the 25-year-old continued to chronicle life on her blog.
The public sharing of one's last thoughts is a way to acknowledge that the end is near, but it also destigmatizes death for others, said medical experts who work with terminally ill patients.
In the Internet age, many people reflect on their lives through video, personal blogs and larger websites such as CaringBridge.org, where people who have major health events connect and share online.
"What we're seeing over the last decade, we are gradually moving from a culture that had become during the 20th century, very closed about death," said Dr. Chris Feudtner, research director of Palliative Care Services at the Children's Hospital of Philadelphia in Pennsylvania.
A cultural shift has occurred, he said, referring to columnists and Randy Pausch, a computer science professor at Carnegie Mellon University, who discussed their impending deaths with frankness. Pausch's last lecture, urging students to fearlessly pursue their dreams, went viral on YouTube in 2007, getting more than 11 million views.
Their line of thinking may be, "I'm still alive. I don't want to be closed. I want connection. I want to be able to share what I'm learning on this journey," Feudtner said.
Bloggers like Miles Levin, an 18-year-old who had a rare soft-tissue cancer and died in 2007, and Michelle Lynn Mayer, a 39-year-old mother who had scleroderma and died in 2008, shared their thoughts on living and dying, too.
"We all tend to be open via video, blog or Facebook about what we do every day. It's hardly surprising that openness extends to people's last days or weeks," said Dr. David Cassarett, author of the book "Last Acts," about end-of-life decisions…Continued
Scott Harisson
The widow of a man who has died of kidney cancer is taking matters in her own hand.  As she says: "Make your voice heard.  Take action". Below is an interview and a look at her Medical Advocacy Mural Project.
I was reading an article from Oprah.com on CNN.com  when I got an email from my sister in-law suggesting I read the article. 
The title of the article is "Cancer, my parents and my doubts about God." The writer, Kelly Corrigan, talks about her parents unwavering Catholic faith and her very wavering religious beliefs. 
Both she and her father were diagnosed with cancer within the same year and while her parents prayed and eventually attributed both Kelly's and her father' recovery to prayer and God, Kelly and her husband hit the internet and did due diligence.
My husband and I never turned to God for his recovery from cancer. We turned to healthy eating, laughter, love, and best medical care available, but others prayed for us.
My husband was an atheist. I'm also an atheist but I do leave room for the mysteries of life and I am a stout believer in the power of love. And as Kelly says in her Oprah.com piece, I wish one day I will come to believe that I will be together with all the people I love even though right now, it almost seems impossible that would happen.
My sister in law, on the other hand turned to her beliefs.  She went to Agape and prayed.  She lit more digital candles than anybody at a prayer site.  And she made collages with all of our pictures, and the doctors' pictures, and healthy images and wrote everywhere "I see perfect health and full recovery." 
I have always appreciated other people praying for me in any language to whomever they believed was listening to them. My friends' love and energy while asking for my well being was what I was thankful for and what I believed in.
In going through my husband's emails while writing a book, I came across these three emails below that spoke about prayer:
From: chris rubin
Date: May 2, 2006 10:36:34 AM PDT
To: Alexa
Subject: Re: positive thoughts
I'm not big on prayers, less so on those coming from strangers. but i would be happy to be in your thoughts.
—
From: chris rubin
Date: July 4, 2006 2:32:40 AM PDT
To: Brooke
Subject: Re: best possible news
can't wait to see you, karyn and other much-loved friends who thought about me, prayed for me, etc. 
love,
chris
— 
From: Chris
Sent: Wednesday, January 24, 2007 1:59 PM
To: Liver Support Group
Subject: Re: Support Group Articles/Topic
People prayed for me, and I suppose I took some level of comfort from that, but only in the sense that I was comforted by their love and concern.
Chris
We were able to keep Chris going for two and a half years, from April 06 through August 08, but he eventually died on the fifteenth of August. He died still being an atheist but I believe that if he could have written another email about prayer it would have been something like this:
From: Chris
Sent: August 15th 2008
To: All my friends and family
Subject: My Love for you
Dear Friends and Family:
I did not want to leave you but I know my time is here. You have made my illness bearable and my life full. Thank you for all your prayers, they've helped me much. Through them I now know how much you love and care about me. 
Please continue to love and laugh and please take special care of the small one.
Love,
Chris.
I just read this story on CNN.com about a camp in Chongqing, China, where kids as young as two years old are sent so their talents are discovered by "experts" and then cultivated by the kids' parents.
The Chinese don't want to waist anytime figuring out how to make their kids excel – watch out for coming to America – but in my opinion what they are leaving out is life is not a science.  Actually, as John Lennon so famously said: "Life is what happens while you are busy making other plans."
Trial and error is such an important part of life.  It creates thick skin and determination.  Also, how many people have been able to overcome their perceived short comings for a particular profession to go on to excel?  What about Clayton "Peg Leg" Bates, a tap dancer who overcame losing a leg in a childhood accident and had a long career that included frequent performances on "The Ed Sullivan Show"?   Would you have told Peg Leg that he shouldn't tap dance because he didn't have a leg? Then what would have happened to him? Would he have ended up being a factory worker or been supported by family or charity?  What about Tyronne "Mugsy" Bogues 5'3″ and a NBA player?  How many players 6″ and over didn't accomplish what Tyronne did? 
And what about the stress that these parents are putting their kids under?  Such focus on succeeding.  Imagine if one of these experts tells the parents that their kid is destined to be a doctor and the kid flunks medical school.  Or develops a blood phobia and can't be in a hospital or clinic.  What would happen to such a person who has spent their life up to that moment thinking they would be doctors?  I'm willing to bet that person would spend many hours on a shrink's couch thinking they were a failure.
I wish parents would just love and respect their kids and support them in finding out for themselves what they want to do with their lives. I wish before people had kids they would understand their kids' lives belong to them not the parents.  After all, the world is plentifully populated.  These days having children is a choice not a species necessity.
I was just reading today on CNN.com the updates on a custody case between a biological American dad and a Brazilian step dad.  In the middle is a nine year old child named Sean.
Quickly, the story is, American man marries Brazilian woman in New Jersey and have a son, Sean.  Brazilian woman takes son to Brazil for a vacation.  Once there Brazilian woman calls American dad and tells him she's not coming back.  American dad goes to a New Jersey court and gets full custody.  Brazilian Woman goes to court in Brazil and gets custody.
Brazilian woman marries another man, Brazilian this time.  Brazilian woman gets pregnant but dies during child birth.  Now Brazilian stepdad does not want to return Sean to American dad because he says he loves the boy like his own son.  The Brazilian woman's family also does not want to return the boy.  In the meantime the 9-year old is being pulled in all different directions.
What a drama!  Everyone loves and wants to keep this boy for their own reasons but I do think Sean needs to be returned to his American father. 
Sean has been living away from his dad since 2004 in a very privileged home environment in Brazil but something must feel amiss to him; his mom is now gone and his dad, who by all accounts had a loving relationship with him, is not in his life. 
I'm sure Sean's stepdad loves him but so does his real father, David Goldman.  The courts say the parents don't really matter as much as what is best for a child.  But truthfully in this case who knows what is best for Sean Goldman? 
My suggestion would be to return Sean to David and give them a chance to have a relationship and if in a couple of years from now Sean is unhappy and wanted to return to Brazil, he then should be allowed to do so.
Bruna the mother, made a mistake by kidnapping Sean from his father.  At that point in time she was thinking about what made more sense to her, not what made more sense to Sean.  Why are the courts so reticence in rectifying a mistake done by a woman who was in search of her own happiness in spite of how that would affect her son?
Why is that the stepfather believes that his love for Sean should trumped a stolen relationship?
Yes we can!!!
Today I got a twitter message asking what was the reason for The Love Project.  Because I only have 140 characters to respond my answer was short but hopefully clear.  But what I would have wanted to respond if I had more characters to spare is; take a look at the front page of any newspaper and news website and the purpose of The Love Project will start to become clearer. 
For example today's CNN.com landing page:
Latest News
Jackson's will answers questions, raise more
Captured U.S. soldier reportedly sold to clan
'Major operation' under way n Afghanistan
Report: North Korea test fires two missiles
CNNMoney: Job market takes turn for the worse
……
How are we supposed to go out into the world with such news?  I don't know about you but after reading the Latest News, I want to hide under my bed.
Why is that the extraordinary deeds performed by regular people every day don't make to the front pages?  Wouldn't it be great to have positive, inspiring news mixed in with the harsh ones? What if the latest news looked like the below?
Latest News
Jackson's will answers questions, raise more
Cleaning lady puts daughter through law school
Captured U.S. soldier reportedly sold to clan
Starving African child shares food with friends
'Major operation' under way in Afghanistan
Today is hug day in America, step outside and get yours
With the above at least we have a fighting chance for a good day and maybe when we say "Have a good day" to others we might just actually mean it.