I went to see a film, "Tree of Life", on Saturday with a friend of mine.  The film, written and directed by Terrence Malick, deals with such existential questions as: Where is God? Where is the person I used to be? And where are the people that have departed?  Terrence Malick, in my opinion, doesn't tell stories, but instead he opens the door to the possibility of a deeply intimate voyage.  His images, words and sounds are the conduit, but the experience is unique to each one of us.
On the way home, while talking about the film, my friend said: "I'm not afraid of dying."  It was the second time that week I was hearing the same statement.  This time I thought I should ask what this friend meant.  He went on to explain that at some point in his life he had been a drug-addict and an alcoholic, and because of that he had developed some serious medical conditions that would end in death if he didn't stop with the addiction.  Because he loved life more than drugs and alcohol, he went into a facility and now has been sober for twenty years.
Yesterday, a friend sent a post, The Way We Grieve Now, she had read on www.shine.yahoo.com . She thought I would "enjoy" reading it.  I did.
In the post the writer, Piper Weiss, describes the different ways people have coped with loss. Michelle Williams (who lost Heath Ledger) found solace in gardening.  Gwyneth Paltrow who couldn't cut her hair when her father died because that was the hair he knew, then one day she had to get it cut right then and there because her moment of letting go had arrived.
Magee was my first dog. He came with my wife. In fact, it is very possible that had he not jumped into my lap and knocked the glass of white wine out of my hand and spilled it on my beige sports jacket, my wife and I would never have gotten together.
I was not a unique child. I wanted a dog as a pet. My mother was desperately afraid of animals. I never knew why. To my knowledge she had never been attacked, and neither my brother nor I had ever an unpleasant moment with a pet. But who is to account for anxieties? They are often untraceable to real events. So, we never had a dog. We visited people who had dogs, but they had to be locked out in a yard or inside in a room or my mother wouldn't come into the house. Every time we visited my Uncle and Aunt, Bill and Sally, I would go down to the den, close the door behind me, and play with their dog that was confined during our visit.
The below is an excerpt from a book by Roshi Joan Halifax.  It is one of the most insightful and delicate pieces on death and dying I've ever read.  So I wanted to share with you.
—————————————
by Roshi Joan Halifax
The ultimate relationship we can have is with someone who is dying. Here we are often brought to grief, whether we know it or not. Grief can seem like an unbearable experience. But for those of us who have entered the broken world of loss and sorrow, we realize that in the fractured landscape of grief we can find the pieces of our life that we ourselves have forgotten.
Grief may push us into the hard question of Why? Why do I have to suffer like this? Why can't I get over it? Why did this one have to die? Why… . In the tangled web of "Why," we cannot find the reasons or words to make sense of our sadness.
Dying people also can grieve before they die. They can grieve in anticipation of their death for all they will seem to lose and what they have lost by being ill. Caregivers will grieve before those they care for have died. They are often saddened by the loss of freedom and options of those that are ill and the knowledge that death will rob them of one more relationship. Those that have been left behind by the dying are often broken apart by the knowledge that they cannot bring back that which has been lost. The irrevocability of it all often leaves them helpless and sad. And then there is the taste of grief in Western culture which is conditioned to possess and not let go.
We all face loss, and perhaps can accept it as a gift, albeit for most us, a terrible one. Maybe we can let loss work us. To deny grief is to rob ourselves of the heavy stones that will eventually be the ballast for the two great accumulations of wisdom and compassion. Grief is often not addressed in contemporary Buddhism. Perhaps it is looked on as a weakness of character or as a failure of practice. But from the point of view of this practitioner, it is a vital part of our very human life, an experience that can open compassion, and an important phase of maturation, giving our lives and practice depth and humility.
To begin, it is important for us to remember that the experience of being with dying for many does not stop at the moment of death. As a caregiver of a dying person or family member who has been at the death of a relative, we may attend the body after death and offer our presence to the community as they and we grieve. When the details of dying and death are settled, then what arises from the depths of the human heart is the many expressions of sorrow when the presence of loss is finally give the room to be seen and felt.
Sometimes grieving lasts not for weeks or months but for years. Frequently the reason why grief is not resolved is that it has not been sufficiently attended to just after the loss of a loved one. Family and friends of the deceased can become consumed by the busyness of the business that happens right after someone dies.
This is one of the great problems that we face in the Western way of dying, that business is so much a part of the experience of dying and death. Survivors often face a complex situation on the material level in the after-death phase. They find themselves looking for a funeral home, letting friends and family know that a death has happened, and creating a funeral service. Unraveling health insurance, taxes, and the last will and testament also take time and energy at this stage. Later there is cleaning up, dividing and giving away the deceased's property, and other seemingly endless chores of closure. Resorting to the business of death can be a way for survivors to avoid the depth of their own loss.
Like dying, grieving has its phases, and it is important to pass through them.
Similar to the phases of dying, grief can be characterized by numbness and denial, anger, great sorrow, depression, despair and confusion. Finally, there can be acceptance and even transcendence as sorrow has opened the door of appreciation and compassion. These phases are similar to those experienced in a rite of passage: separation, transition, return.
Grief can also arise as a person is dying. Family and friends as well as the one who is dying can experience what is called "anticipatory grief," the bones of loss already showing. Working with that grief is an important part of what one can do in the care of the dying. In fact, most caregivers have to cross and recross this territory of grief in being with living and dying many times in the course of just one person dying…Continued
Death is part of life either we want it or not, so we might as well become friendly.  One of the good things that have come out of the age of social networking is the sharing of subjects societies have kept to themselves for a very long time.  Thanks to some brave and honest souls we have the opportunity to come close to situations and feelings that in their rawness and devastation will remind us to cherish our lives and love.
Much love to Eva Markvoort who is no longer with us and whose courage has inspired many.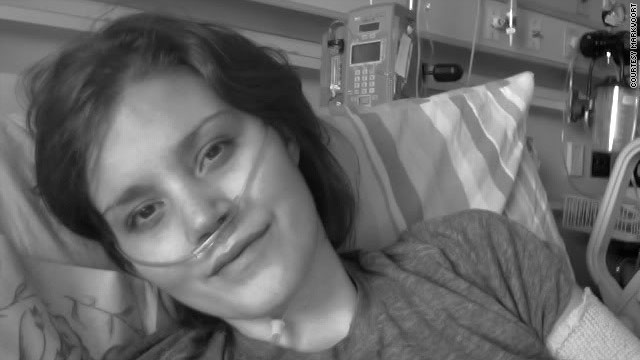 "Hello to the world at large," she said in the video. "To my blog, to my friends, to everyone. I have some news today. It's kinda tough to hear, but I can say it with a smile." Propped in a hospital bed, Markvoort sat surrounded by her family. "My life is ending."
Markvoort had cystic fibrosis, an incurable disease that causes mucus to accumulate in the lungs. For nearly four years, she narrated an unvarnished blog about life with a terminal disease. Even when it appeared unlikely that she would receive a second double lung transplant, the 25-year-old continued to chronicle life on her blog.
The public sharing of one's last thoughts is a way to acknowledge that the end is near, but it also destigmatizes death for others, said medical experts who work with terminally ill patients.
In the Internet age, many people reflect on their lives through video, personal blogs and larger websites such as CaringBridge.org, where people who have major health events connect and share online.
"What we're seeing over the last decade, we are gradually moving from a culture that had become during the 20th century, very closed about death," said Dr. Chris Feudtner, research director of Palliative Care Services at the Children's Hospital of Philadelphia in Pennsylvania.
A cultural shift has occurred, he said, referring to columnists and Randy Pausch, a computer science professor at Carnegie Mellon University, who discussed their impending deaths with frankness. Pausch's last lecture, urging students to fearlessly pursue their dreams, went viral on YouTube in 2007, getting more than 11 million views.
Their line of thinking may be, "I'm still alive. I don't want to be closed. I want connection. I want to be able to share what I'm learning on this journey," Feudtner said.
Bloggers like Miles Levin, an 18-year-old who had a rare soft-tissue cancer and died in 2007, and Michelle Lynn Mayer, a 39-year-old mother who had scleroderma and died in 2008, shared their thoughts on living and dying, too.
"We all tend to be open via video, blog or Facebook about what we do every day. It's hardly surprising that openness extends to people's last days or weeks," said Dr. David Cassarett, author of the book "Last Acts," about end-of-life decisions…Continued
Yesterday, I was talking to my dad on the phone about my upcoming visit to Brazil.  We discussed all the things we were planning in doing together and right before I said goodbye my dad said: "I so look forward to seeing you.  I don't know how many more times I'll get to see you."  I felt sad about his remark because it is true.  My dad is 86 years old and we are coming to the end of our path together.
After we hung up the phone I thought about death and aging.  I'm not a morbid person at all but after losing my husband, I've become more acquainted with what it actually means to see someone die and to be the one left behind.
Death and aging are part of life and both happen to us every second, or whatever tiniest measure of time there is.  Not being aware of their power is like standing on the shore watching a tsunami approach and doing nothing.
I'm not advocating thinking about aging all the time.  But I'm suggesting being aware of time and not putting all of our eggs in the basket of youth and appearance.  I'm suggesting creating a basket for wisdom, understanding and growth.
I'm also not advocating thinking about dying all the time.  But I'm suggesting being aware of the preciousness of life by relating to others, doing what's important and not squandering our energy in things that truly don't matter.
As hard as it may seem, being aware of aging and dying has the power to enrich the life we have today.
by Julia Caroline Knowlton
Can we understand love by considering our experience of it as "dying a little?"  Is love sometimes an act or expression that sacrifices my life through a "giving-over" to yours?  In loving, do we surrender our precious vulnerability?
Unsettling notions reveal truths.  A rabbi once taught me that love is the constriction of the self in service to the other.
In French, the word for love is l'amour and the word for death is la mort.  All nouns in French are either masculine or feminine.  There is no neutral.  Love (l'amour) is masculine and death (la mort) is feminine.  The two words sound eerily alike.  I amuse my students when I teach them how to differentiate the pronunciation: "L'amour requires you to "pucker up" a little while you say it, whereas la mort does not."
Loss is irrevocably bound to our experience of love.  Life begins with a first separation as the child leaves the mother's body and is cut off from it.  Nursing can then be seen as a remarkable duet between mother and baby, hearkening back to that lost union.
The longing you feel for the one you love hurts.  The French call orgasm la petite mort ("the little death").  Lust is the primal urge to erase physical boundaries that separate two people.  The blurring of boundaries that constitutes sex may be understood as a powerful remembrance of symbiosis between mother and infant.
In more concrete contexts, we can see that loving the other often requires a literal depletion of the self.  Maternal love relentlessly demands "a little dying" through emotional and physical fatigue.  Making scrambled eggs in the pitch black on freezing cold mornings when you feel bone tired.  I have heard mothers say "I feel like these children are sucking the life force out of me."  And to an extent, they are.
There is true nobility to this "little dying."  My closest colleague lost his wife to gastric cancer almost one year ago.  I watched him age before my eyes as he slaved through her diagnosis, treatment, passing, and burial.  All the while he took care of their young son and daughter, and did not complain.  And he continued to teach his students throughout the entire ordeal.
Another colleague of mine hauled several huge student suitcases up a narrow, 85-degree Fahrenheit stairwell in the TGV (train de grande vitesse) in Avignon, France, despite the fact that he suffers from severe vertigo. He did this because several students were ill. While he did that, I stood with a sick young student who clung to me for hours at the bottom of that same stairwell. We were packed standing like sardines. Some French teenage boys stared at my student-a tiny shy girl-with bemused curiosity until I explained to them that she was ill.
Is love sometimes like dying a little?  I think so. If we do not run from it, this understanding of love offers us a glimpse of the sublime.
Copyright 2009 Julia Caroline Knowlton
HOSPICE VOLUNTEER
by Wendy Hammond
Lately, I've been middle aged.  I suppose this is why I wake up at two in the morning and consider my life.  Usually I'm horrified.  I wander around my dark house listening to the music and rhythms of my husband's breathing, and I think about the things I've always wanted to get out of life, and I wonder, in my middle aged way, why none of it feels meaningful anymore.
The search for meaning led me, several months ago, to get on the internet and type "hospice + volunteer" on the Google search page.  I had read Kubler-Ross's Death and Dying, and Tuesdays with Morrie and I figured that by working with the dying I'd find the meaning in life.
So I signed up for volunteer training at a nearby hospice.  Every Wednesday night about 40 of us met in the Hospice cafeteria.  We watched Nurse Betty demonstrate how to put on and take off latex gloves.  We listened to lectures on the stages of dying, bereavement, and color therapy for the sick.  We practiced healing each other with energy from our hands.  For our last class, a college professor spoke about the life lessons we would learn from the dying.  Then Helen, the director of volunteers, gave each of us a blue paper with scrolls xeroxed on it.  The paper certified that we had graduated from the volunteer training and were now ready to minister to the dying for one shift every week.  We ate sugar cookies and hugged each other goodbye.  We drove back to our homes imagining how we would sit at deathbeds and commune with the souls making their way to the world beyond.  We would hold their hands and talk deeply about life.  Some of us would write our own books: maybe not Tuesdays with Morrie but certainly Fridays with John.
That first night, I presented myself to the nurses station full of expectation.   I made myself notice every detail — the rose colored carpet, the buzz of the fluorescent lights — because I wanted to remember every moment as I began my journey into the depth and breadth of life's meaning.
The receptionist looked up at me blankly.  Apparently she didn't know I was coming.  "Wait here," she said.  I leaned on the counter and waited.  Every so often a nurse or CNA ran past the desk. "Do you know about this volunteer?" the receptionist asked.  They all shook their heads and kept running.  Finally a short muscular man named George grabbed my elbow.  "I'll take her," he said.
George raced around the floor pointing out where to fetch chucks, diapers, wipes, gloves, gowns, towels and topical medications.  I ran behind him hoping I'd remember half of what he said.   He showed me where to put soiled laundry and how to deposit biowaste, then he turned and looked me over.  He frowned.  "How strong are you?"
"Pretty strong."
He kept frowning for a moment as if he didn't believe me.  Then he smiled, wickedly.  "Good."
I held no hands that night; I didn't discuss the meaning of life.  I cleaned up shit.  George and I went from patient to patient turning them, changing diapers and chucks, replacing soiled bedclothes with fresh, putting salve on bed sores.  The smell of shit was constant.
As I worked I thought about Tuesdays with Morrie, how wise Morrie was, how much he liked to talk.  Most of these patients were too sick or too medicated to say anything, much less impart wisdom.  Some of them slept, some stared.  Some patients looked dully at television sets.  Every few seconds a TV character got shot or fell off a building.  It struck me how easy death was on TV and how hard it was for these patients.  These people had been dying a long time, and most of them had months to go.
I must have made a face because George said, "Do you mind this?"
"No, absolutely not."  But I realized that wasn't the truth.   I didn't like that truth, I'd been trying to ignore it, I felt ashamed of it, but here it was.  Death, the process of dying– it was pissing me off.  Here I'd spent my valuable time training as a volunteer, and now I was doing smelly, hard physical labor.  I had expected, in return, to find meaning in life, but I wasn't finding meaning in life.  I was watching the meaningless suffering, helplessness and medicated boredom of people slowly dying.
George and I started to work on Liz.  A nurse had already given her the maximum pain medication allowed, but still she winced badly even when we touched her arm.  "Can't we just leave her be?" I asked.
George pointed to the blood on the bed pad near her bottom.  "Her bed sores are infected," he said.  "You want 'em to get worse?"  Liz was a large woman, and we heaved and pulled and cleaned as gently as we could, all the time watching the agony on her face, now lessening, now getting worse.
As we worked, I began to notice the transaction I had expected — my time and labor in exchange for a sense of meaning.  I considered how much of my life had been a transaction.  My effort in exchange for money and success.  My nurturing in exchange for my family's love.  Was I a human being or simply a consumer?  No wonder I didn't find meaning in life lately.  And what a horrible thing I was doing tonight, trying to buy a sense of life's meaning off these sick and dying people.
When we finished, Liz's face was flushed red and covered with perspiration.  I wiped her forehead with a cool washrag while George adjusted the pillows under her knees.  She started to whisper, "You're so good to me.  I can't thank you enough."
I wanted to believe she was talking to us.  If I couldn't get meaning out of this, at least I could get gratitude.  But her unfocused eyes told me she was speaking to someone not in this room.  George stroked her gray, matted hair.  "Go to sleep, Sweetie," he said.  "Go to sleep now."
She closed her eyes.  Her body twitched, agitated.  Finally I understood:  Liz wasn't getting anything out of dying; she was just dying.  And I wasn't getting anything out of cleaning her; I was just cleaning.  I was doing the work simply because it needed to be done.
Suddenly the shouting in my mind quieted down, and for the rest of my shift I lifted and cleaned and comforted as best I could, free for the first time in years from the questions like hungry monsters in my mind: what can I get out of this, where's the meaning, what's in it for me?
Wendy Hammond is a playwright now living in Asia and setting up the drama department of TischAsia (Tish NYU).  She is also a minister and a mother.
I came across an article today, (http://www.guardian.co.uk/lifeandstyle/2009/oct/06/how-to-talk-to-someone-who-is-dying) not because I'm thinking about death and dying but because I'm getting a lot emails from people in difficult situations.   I think this article is fine but I wanted to add one more thing for caretakers, family and friends to think about which is; let the patient decide how and if she or he wants to know the truth.
In the case of my husband, he knew, but he didn't want to "know".  That means he didn't want to talk about it, and he didn't want to hear the words, and hopefully he could also not see in our faces that we knew.
His doctor wanted to tell him when he felt we had come to the end of the road and my husband's family agreed with the doctor.  But I kept saying, please don't.
Chris and I had an understanding: I was the one who took care of his medical issues, asked the questions and listened to the answers.  He didn't want to be part of it simply because by not "knowing" he could continue to fight and he could live, whatever life he had left, the best way possible.
Chris had been in the ICU and one of his doctors actually thought he would make it out.  But to everyone's amazement not only Chris was moved to the regular floor four days later but he surprised everyone by getting up from his bed and walking the halls of Cedars to the point that his nurses were begging him to stop.  A week after being admitted into the ICU, I was driving Chris home.  That was Chris, never giving up.  And to him not hearing the words: you are going to die, allowed him to continue fighting till his last day.
I remember a family meeting with his doctor where I said something like "I know letting the patient know everything is medicine 101 today, but my husband – the only one we should be concerned about – does not subscribe to this system.
So I finally was able to strike a deal with Chris' family: "Let's just ask him if he wants to be part of the next meeting and if he wants to know what has been discussed and what will be discussed": his answer to all these questions was a loud and clear "no".  After that, the subject was never brought up again.
On August 13th 2008, I helped Chris get dressed and find a pair of sandals that his swollen feet would still slide in, and drove him to a restaurant where he wanted to have lunch with my nieces.
On August 14th at 5am he felt ill and was taken to the ER.
On August 15th at 2am, he passed away the way he chose to; fighting and being at home till the very last moment.
So when speaking or caring for people in terminal situations listen to them and do what they want and need not what others think is right.
As you know, you people that read my blogs daily tomorrow will be the one year anniversary of my husband's passing.
This has been a strange week.  A couple of Chris' friends, who I had not met before, contacted me through Facebook when they realized it was a year since his passing.  They wanted to share how they had met Chris and one of them even included an anecdote about Chris which had me laughing.  I also got a prayer from someone I had helped a while back.
Today in my boot camp class my Argentine teacher who is always teasing me asked: "Brazil, are you okay?  You're so quiet you almost seem like another person."
I'm sad, and sadness makes me quiet and introspective. So I thought I should write about sadness and try to turn some of it into something positive.
First what is sadness?  According to many psychology books sadness is a natural emotion that usually accompanies loss; loss of a love, a person, an opportunity. 
What to do about sadness? Feel it, embrace it. If unfelt will just stay in our array of unresolved trauma knots.  Sadness also allows us to get in touch with our deeper selves and with the things that really matter to us.
Why is that sometimes we avoid feeling the sadness? Maybe some of us are afraid that if we feel the sadness and its accompanying partners, grief and crying, we will never come out of the hole. Or maybe we fear that others will judge us weak.
In my own experience there is great strength in pain and there is great wisdom in sadness. Of course I'm not advocating for anyone to go out there and purposely find pain and sadness to achieve strength and wisdom because trust me it isn't necessary. The truth is; pain and sadness will come to us, on their own accord, at different times in our lives. 
What I'm saying is that when pain and sadness happen to us to honor their existence.  From them we learn that we survive most situations as well as the value of happiness. 
I also think there is great strength in being vulnerable, in being human.  When we are sad and vulnerable we tell the world that we are strong enough to experience your humanity without fear.  That's strength.
So today I'm staying quiet and am allowing my sadness to have the room it needs to express itself.