"I ran up the door, opened the stairs,
said my pajamas and put on my prayers -
turned off my bed, tumbled into my light,
and all because he kissed me good-night!" –author unknown
I smile.  Is there anything more exciting and nerve racking than when meeting someone we like? I think about all the afternoons I have spent daydreaming; the plot lines constantly changing but the characters remaining the same.  I can almost feel that jittery feeling in my gut.  The first kiss, the first night together, the thoughts, the questions. How will things turn out? Will we feel like this forever?
Love is a life source. Once we acknowledge and embrace it, it colors every action we take. Love transforms us. Love beautifies us. Love fulfills us.
Poet Nikki Giovanni said: "We love because it's the only true adventure."
The ancient Greek playwright Sophocles wrote: One word frees us of all the weight and pain of life; that word is love.
And author Erica Jong said: "Love is everything it's cracked up to be. That's why people are so cynical about it…It really is worth fighting for, risking everything for. And the trouble is, if you don't risk everything, you risk even more."
Once you truly love someone that love will always be in you.  Once you truly have been loved you'll never settle for less.
"Nobody has ever measured, even poets, how much a heart can hold."  ~Zelda Fitzgerald
Love today, with all your heart.
By Kathleen Norris, Special to CNN
April 6, 2010 8:16 a.m. EDT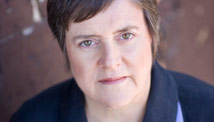 STORY HIGHLIGHTS
Author: Acedia is profound indifference and inability to care about things that matter
Early Christians recognized acedia as one of "eight bad thoughts"
Kathleen Norris: Like spiritual morphine; pain is there, but you can't give a damn
No remedy, but you can learn to recognize it and resist it
Editor's note: Kathleen Norris is a poet and the author of The New York Times bestsellers "The Cloister Walk", "Dakota: A Spiritual Geography" and "Amazing Grace: A Vocabulary of Faith." She recently finished a tour for her latest book, "Acedia and Me."
(CNN) — On a recent trip across America, what surprised me most was the number of people — over 200 in one city, 80 to 150 elsewhere — who wanted to discuss this odd word, "acedia."
It's an ancient term signifying profound indifference and inability to care about things that matter, even to the extent that you no longer care that you can't care.
I liken it to spiritual morphine: You know the pain is there but can't rouse yourself to give a damn. Read more
Love is not all: it is not meat nor drink
Nor slumber nor a roof against the rain;
Nor yet a floating spar to men that sink
And rise and sink and rise and sink again;
Love can not fill the thickened lung with breath,
Nor clean the blood, nor set the fractured bone;
Yet many a man is making friends with death
Even as I speak, for lack of love alone.
It well may be that in a difficult hour,
Pinned down by pain and moaning for release,
Or nagged by want past resolution's power,
I might be driven to sell your love for peace,
Or trade the memory of this night for food.
It well may be. I do not think I would.
Edna St. Vincent Millay, born in 1892 in Maine, grew to become one of the premier twentieth-century lyric poets. She was also an accomplished playwright and speaker who often toured giving readings of her poetry. All of that was in her public life, but her private life was equally interesting. An unconventional childhood led into an unconventional adulthood. She was an acknowledged bisexual who carried on many affairs with women, an affection for which is sometimes evident in her poems and plays. She did marry, but even that part of her life was somewhat unusual, with the marriage being quite open, and extramarital affairs, though not documented, are quite probable.  She died in 1950.
Rumi had a thing or two to say about love.
And I have a thing or two to say about Rumi.
Here is a link to a little background info on Rumi, in case you'd like to know more about him.
http://en.wikipedia.org/wiki/Rumi
25
Friend, our closeness is this:
Anywhere you put your foot, feel me
in the firmness under you.
How is it with this love,
I see your world and not you?
This quatrain is a container of words into which a poet has poured his own mystical experience of love. The voice in the first stanza of this quatrain seems to be addressing a beloved friend. The words allude to the distance between them that has neither diminished their inner experience of connection, nor dulled an accompanying aura of longing. Though separated in space, these friends stand in a single stream of being that flows through both their hearts.
When the poet addresses matters on his own side of the physical divide, he suggests an inescapable sense of longing that troubles him and fuels the wonder that burns with it. He has shifted his tone, letting us know that he is addressing his question to both the human and divine subjects of his adoration. He knows the object of this love only through its surrogate – a world which is radiant with life and being. And yet in all its radiance, it is still only a surrogate and this suffuses the experience of this poet with great tension – between the love and awe that comprise his visionary experience, and the longing and doubt that confines the human mind.
In light of the second couplet, it seems that the first stanza has actually been an address of the Transcendent to the poet – the one who adorns the ineffable in words, making its presence audible in the world, ushering it toward an encounter with human minds. From this perspective, the words are an expression of natural benevolence; they extend the reassuring touch of an old and wise friend.
 36
When I am with you, we stay up all night.
When you're not here, I can't go to sleep.
Praise God for these two insomnias!
And the difference between them.
The words of this quatrain are arranged in a manner that intermingles human and mystical love, as a reminder that the barricade between them is merely an artifact of our own forgetting.
"Praise God for these two insomnias" – of longing and of consummation, the two channels by which human beings may transcend the drowsiness of their daily toil, the relatively meager boundaries of production and consumption that are conventionally imposed upon the experience of living.
The tidal motion between these two insomnias animates life. The lover follows the dance-steps of a natural opera; the insomniac is in the throes of an imagination that is aflame with the processes of creation that have illuminated his sleeping mind.
Were it not for these God-given insomnias we would never raise our heads and open our eyes to gaze on a wider view; our minds would remain tethered to the chores placed before them. Without them we would graze along the surface until we slipped forever into the darkness beneath it.