I think a major frustration many people feel as they jump into the self-help book, workshop, lecture world, is from the misguided idea once we do "this or that" we will be happy ever after. It's like all of a sudden we are bad math students in search of final answers to problems.  I say bad math students because a true visionary knows our understanding of the universe is interconnected and always evolving.
What we often do is, one day we realize we need to work on some specific issue about our behavior that is creating chaos and pain in our lives.
How to achieve a sense of well-being.
My sister and nieces are visiting from Italy.  My nieces, twins, are fifteen and hooked up on all the gadgets teens love.
I had dinner with them at their rented apartment tonight.  But after dinner as if we all had rehearsed this many times we all went to our computers.  I stayed on for another hour and then said goodbye.  The girls were surprised I was leaving so early but I pointed out we all had been on our computers.
Driving home I thought of my dad always complaining that when we are all visiting him we spend a lot of time on our computers. He and my mom make a point to interrupt me.  They feel we are not connecting.
When I got home, a friend had sent me an article he had seen on a site, http://charactercounts.org/chron/2010/06/16/the-empathy-deficit/ he thought I would enjoy reading.
I really like this post by Terry Tillman because it talks about stopping long enough to recognize the existence of others. I see you.
I often thought a lot of the violence in Rio de Janeiro (my birth town) came from the fact the middle and upper middle class in fear and/or desperation of not knowing what to do, chose to ignore the poor living on the streets.  I'm talking about not even look at the street people. The result of that group behavior is that the homeless and the poor became non-people.  But people can't be non-people for too long, so they steal and kill.  I'm here.  Can you see me now?  Of course this is the extreme of ignoring others.  But think about how we would all profit if we actually were present when we came in contact with others?
Recovering Businessman, Seminar Leader, Speaker, Author, Coach, Scout
Remember those scenes in Avatar, when the people of Pandora would look each other in the eye and say, "I see you?" Well, these three little words may have a much deeper meaning–they are part of a time-tested tradition and greeting that we can use today to feel more connected, centered and purposeful.
About 20 years ago I was on a safari in Africa (Kenya, Tanzania and Rwanda). As we traveled through the villages and Serengeti savanna I noticed a recurring event. When one of the indigenous people would approach another, they would pause, face each other, look directly in each others eyes for five to15 seconds, say something and then continue on their way. This would happen in populated villages and in very remote areas where there may be only one human every 20 square miles.
After a couple weeks of noticing this I asked one of our guides from the Samburu tribe what the natives were doing. He said they were greeting each other. "How are they doing that? What are they saying?" I asked.
"One of them says, 'I see you.' Connecting through the eyes, the other replies, 'I am here.'"
This touched me. I've traveled to and worked in 94 countries so far and have seen many different customary greetings–hand shakes, bowing, kissing on cheeks one, two or three times, hugging, touching foreheads … but none quite like this. I have a file I call "Fancy Stuff" for things that tickle my fancy, and that illustrate or demonstrate a truth or useful principle. This goes in that file…Continued
I was very moved by this CNN story.  Most people when losing everything end up drowning  in self-pity.  But sometimes some of us face adversity head on.   They accept their situation and let go of what their life was like and in doing that discover a new life.  Shay Kelley is one of those people.
Denver, Colorado (CNN) — When Shay Kelley lost her marketing job she got worried. When she lost her home and her car she got mad.
"I went off into the woods and I started yelling at God," she says. "I didn't know why God would lead me up to this point in my life just to have me left with nothing."
"I was like, 'Just tell me what my purpose is, tell me why I'm here and if you'll just tell me I'll work harder than for anything I have ever worked for anything else in my entire life.' "
Within weeks she had her answer: Travel to all 50 states in 50 weeks. Collect canned goods for charities along the way and take a ton of pictures. She has dubbed it Project 50/50.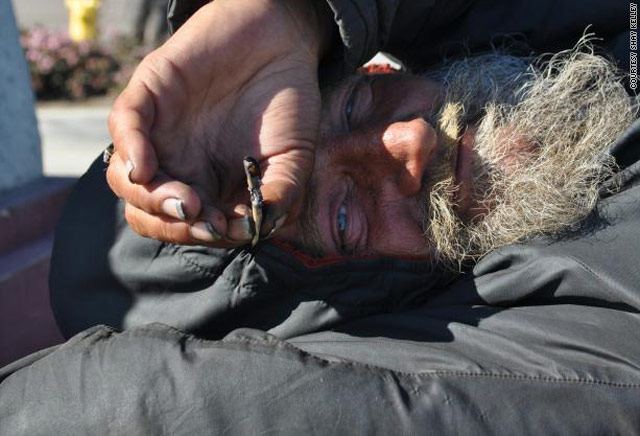 Gallery: Project 50/50
She stayed with friends while she waited tables and got together enough money to buy "Bubba," her 1984 Ford pickup truck. She packed her camera, which she calls "Roxy," and her dog, Zu Zu, and hit the road.
She began on New Year's Day in South Carolina, randomly going door to door to collect canned goods.
"I set a goal of 200 cans a week, which doesn't sound like a lot, but the premise is [that] doing a little bit adds up to a lot," Kelley says. "After a year, [that's] 10,000 canned food items."
She began to meet homeless people as she dropped off the canned goods, and she says they have surprised her with their generosity.
She met Donald, a retired Navy sailor, at a library in South Carolina.
"He invited me to go to lunch to buy me a hot meal because I had been eating PowerBars for three days," Kelley says. "I found out after he left — after he paid the tab and paid my meter — that Donald was homeless, that he was actually living in the shelter."
"That was the first week when I learned the people with the least tend to give the most."
Donald was one of the first people she photographed. She posts her pictures on her website and Facebook page as she goes. She has more than 1,000 Facebook fans following her travels…Continued
"We do not choose to be born.  We do not choose our parents.  We do not choose our historical epoch, the country of our birth or the immediate circumstances of our upbringing.  We do not, most of us, choose to die, nor do we choose the time or conditions of our death.  But within all this realm of choicelessness, we do choose how we shall live: courageously or in cowardice, honorably or dishonorably, with purpose or in drift.  We decide what is important and what is trivial in life. We decide that what makes us significant is either what we do or what we refuse to do.  But no matter how indifferent the universe may be to our choices and decisions, these choices and decision are ours to make. We decide. We choose. And as we decide and choose, so are our lives formed."
Joseph Epstein (born January 9, 1937 in Chicago) is an essayist, short story writer, and editor, best known as a former editor of the Phi Beta Kappa Society's The American Scholar magazine