Death is part of life either we want it or not, so we might as well become friendly.  One of the good things that have come out of the age of social networking is the sharing of subjects societies have kept to themselves for a very long time.  Thanks to some brave and honest souls we have the opportunity to come close to situations and feelings that in their rawness and devastation will remind us to cherish our lives and love.
Much love to Eva Markvoort who is no longer with us and whose courage has inspired many.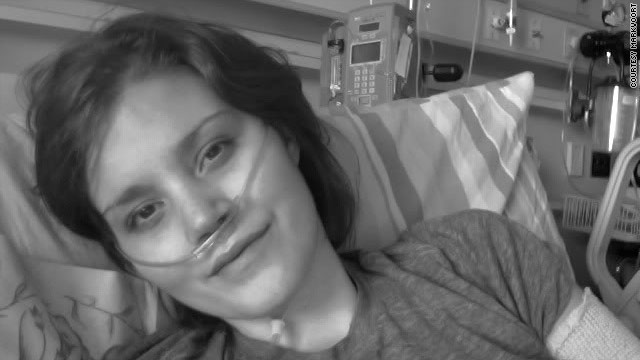 Eva Markvoort started her blog, 65_RedRoses, to document her struggles with cystic fibrosis.
(CNN) — The former beauty queen stared into the camera, but this was no pageant or performance. She looked frail and thin, and her hair was rumpled. But Eva Markvoort smiled weakly.
"Hello to the world at large," she said in the video. "To my blog, to my friends, to everyone. I have some news today. It's kinda tough to hear, but I can say it with a smile." Propped in a hospital bed, Markvoort sat surrounded by her family. "My life is ending."
Markvoort had cystic fibrosis, an incurable disease that causes mucus to accumulate in the lungs. For nearly four years, she narrated an unvarnished blog about life with a terminal disease. Even when it appeared unlikely that she would receive a second double lung transplant, the 25-year-old continued to chronicle life on her blog.
The public sharing of one's last thoughts is a way to acknowledge that the end is near, but it also destigmatizes death for others, said medical experts who work with terminally ill patients.
In the Internet age, many people reflect on their lives through video, personal blogs and larger websites such as CaringBridge.org, where people who have major health events connect and share online.
"What we're seeing over the last decade, we are gradually moving from a culture that had become during the 20th century, very closed about death," said Dr. Chris Feudtner, research director of Palliative Care Services at the Children's Hospital of Philadelphia in Pennsylvania.
A cultural shift has occurred, he said, referring to columnists and Randy Pausch, a computer science professor at Carnegie Mellon University, who discussed their impending deaths with frankness. Pausch's last lecture, urging students to fearlessly pursue their dreams, went viral on YouTube in 2007, getting more than 11 million views.
Their line of thinking may be, "I'm still alive. I don't want to be closed. I want connection. I want to be able to share what I'm learning on this journey," Feudtner said.
Bloggers like Miles Levin, an 18-year-old who had a rare soft-tissue cancer and died in 2007, and Michelle Lynn Mayer, a 39-year-old mother who had scleroderma and died in 2008, shared their thoughts on living and dying, too.
"We all tend to be open via video, blog or Facebook about what we do every day. It's hardly surprising that openness extends to people's last days or weeks," said Dr. David Cassarett, author of the book "Last Acts," about end-of-life decisions…Continued